Nick Cave & The Bad Seeds se suman como cabezas de cartel a la programación del MEO Kalorama 2022. La legendaria banda australiana actuará el sábado, 3 de septiembre, en el festival de Lisboa. Además, recientemente se han anunciado las incorporaciones al cartel de Jessie Ware, Crawlers, Jake Shears, Marina Sena, Bruno Pernadas, Club Makumba, D'Alva, Fred, Golden Slumbers y Xinobi Live.
Programación, hasta el momento, del festival portugués:
Jueves, 1 de septiembre: The Chemical Brothers, Kraftwerk, James Blake, Moderat, Years & Years, Bomba Estéreo, Jake Shears, Marina Sena, Rodrigo Leão, Cinema Project, Fred, D'Alva y Xinobi Live.
Viernes, 2 de septiembre: Arctic Monkeys, Bonobo, Jessie Ware, Róisín Murphy, Blossoms, Bruno Pernadas, The Legendary Tigerman, Alice Phoebe Lou, Crawlers, Golden Slumbers y The Lathums.
Sábado, 3 de septiembre: Nick Cave & The Bad Seeds, Disclosure, Chet Faker, Ornatos Violeta, MEUTE, Peaches y Club Makumba.
Los abonos para el festival están a la venta aquí a un precio de 139,10€.
Cartel hasta el momento del Kalorama 2022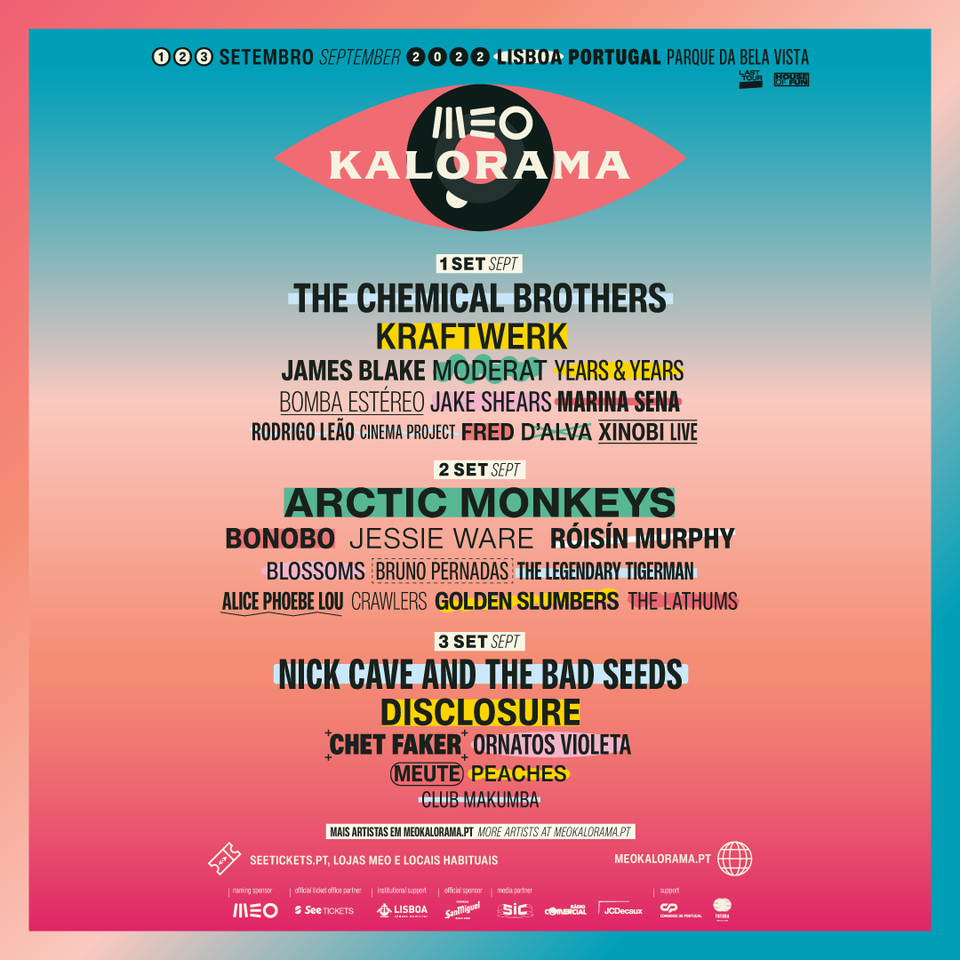 El Kalorama se celebrará entre los días 1 y 3 de septiembre de 2022 en el Parque de Bela Vista de Lisboa (Portugal). Más información aquí.
Página oficial: kalorama    Facebook    Twitter
¡Recuerda consultar el calendario de confirmaciones de festis para enterarte de todas las novedades!