El Live at Leeds 2017 cierra su cartel confirmando a Frightened Rabbit, AJ Tracey, Childhood, Ekkah, Rationale, Seafret, VANT, Airways, Alex Francis, Amber Arcades, Annabel Allum, Arc, Carmody, Casey Lowry, Croox, Dead!, Dead Pretties, DUSK, Fletcher Jackson, Francobollo, Gang of Youths, Geowulf, Her, Jagara, JAKL, Jellyskin, Jerry Williams, Joe Fox, Joel Baker, Johnny Lloyd, Jordan Max, Joy Room, KELL, Leo Stannard, Little Hours, Lisbon, Liv Dawson, Mosa Wild, MOSES, Noctürn, October Drift, OUTLYA, Piles of Clothes, Pixey, PLAZA, RedFaces, Roe Green, Rory Butler, Saint PHNX, Sam Brookes, Sam Wilde, Scarlet, Shadowlark, Shy Luv, Siv Jakobsen, Sivu, SLANG, Sonny, Strong Asian Mothers, Tender Central, The Academic, The Age of Luna, The Wandering Hearts, Tom Hickox, Weirds, Wuzi, Wyvern Lingo, Yonaka, Young Native y Zach Said.
Los anteriores nombres anunciados habían sido: Slaves, Wild Beasts, White Lies, The Pigeon Detectives, Jagwar Ma, Teleman, Superfood, Black Honey, The Magic Gang, The Amazons, The Big Moon, JAWS, Let's Eat Grandma, Bad Sounds, Blackwaters, Brian Deady, Clay, Colouring, Fangclub, Flamingods, Freak, Gurr, Kllo, Lamia, Luxury Death, Marsicans, NGOD, Nilufer Yanya, Team Picture, The Bay Rays, The Night Cafe, The Opera Comic, The Pale White, Rag'n'Bone Man, Nothing But Thieves, DMA'S, Gabrielle Aplin, Temples, The Hunna, Clean Cut Kid, Fickle Friends, Honeyblood, Jake Isaac, Lewis Watson, The Moonlandingz, Tom Grennan, Adian Coker, Áine Cahill, Anna Straker, Artificial Pleasure, Atlas Wynd, Bad Nerves, Banfi, Be Charlotte, Bryde, Carys Selvey, Chest Pains, Chinah, Club Driver, Connie Constance, Dead Naked Hippies, Dream Wife, Easy Life, Eat Fast, Faux Pas, Fazerdaze, FISH, FLING, Furr, Get Inuit, HMLTD, Husky Loops, IDER, IDLES, Indigo Husk, Jade Bird, Jordan Allen, Jordan Mackampa, Joy Crookes, Judas, King Nun, Kojey Radical, Kovic, KYKO, Laurel, Lea Porcelain, LIFE, MarthaGunn, Matt Maltese, Off Bloom, Otzeki, Pale Waves, Plastic Mermaids, Paris Youth Foundation, Puma Blue, Rory Wynne, She Drew The Gun, Tender, Ten Tonnes, The Golden Age of TV, The Tiny Minds, Tom Walker, Treeboy & Arc, Trudy and the Romance, White Kite, XamVolo y Yellow Days.
Cartel completo del Live at Leeds 2017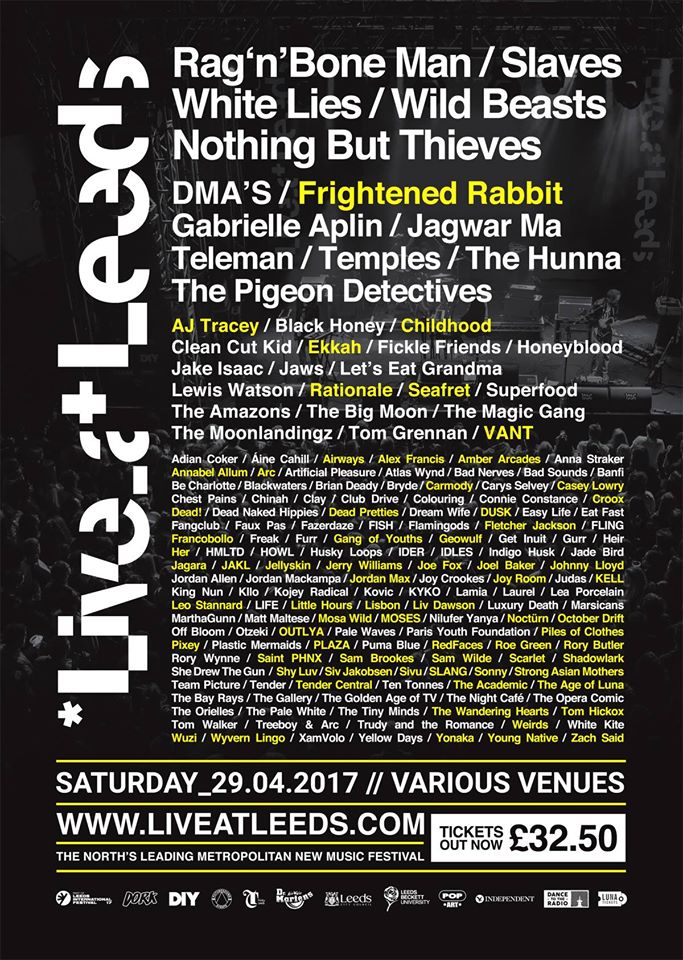 El festival Live at Leeds tendrá lugar el 29 de abril de 2017 en Leeds (Reino Unido). Más información aquí.
Página oficial: liveatleeds    Facebook    Twitter
¡Recuerda consultar el calendario de confirmaciones de festis para enterarte de todas las novedades!