El Roskilde 2018 ha anunciado hoy un total de 26 nombres más para su cartel, entre los que destacan Nine Inch Nails, la vuelta de Black Star, Fever Ray o My Bloody Valentine.
Además de estas, el anuncio de hoy incluye las confirmaciones de: Peter Sommer, Celeste, 6LACK, AMMAR 808, Dead Cross, El Leopardo, Four Tet, Laurel Halo, MHD, Sampha, Superorganism, Turbolens, Yasmine Hamdan, B From E, Emil Kruse, Fool, Gurli Octavia, Marshall Cecil, Pale Honey, SASSY 009, Simon Littauer y Slægt.
El festival danés ya había incorporado a su programación musical este mismo lunes: The Blaze, Rome Is Not A Town, Kelly Lee Owens, Juana Molina, Sigrid, Stefflon Don, Regelbau presents Central + Dj Sports + C.K + Manmade Deejay, Ond Tro, Smerz, Nyt Liv, Motorsav y Yonaka. Por otro lado, para la programación de artes y debates, han anunciado a Chelsea Manning, ±Maismenos± y Bankslave.
Programación por días, hasta el momento, del Roskilde 2018:
Miércoles, 4 de julio: Eminem, Nine Inch Nails, Cardi B, The Blaze, Clutch y St. Vincent,
Jueves, 5 de julio: Bruno Mars, Khalid, Nephew, 6LACK, Black Star, Boris & Merzbow, Chelsea Manning, El Leopardo, First Aid Kit, Heilung, Motorsav, My Bloody Valentine, Nyt Liv, Oh Sees, Ond Tro, Preoccupations, Regelbau Presents Central + Dj Sports + C.K + Manmade Deejay, Stormzy, Superorganism, Turbolens, Wilkinson y Yasmine Hamdan.
Viernes, 6 de julio: David Byrne, Ammar 808, Benal, Celeste, Dead Cross, Descendents, Fever Ray, Fleet Foxes, Four Tet, Laurel Halo, Lekhfa, Myrkur, Odesza, Sampha, (Sandy) Alex G, Stefflon Don, Watain y Yasuaki Shimizu.
Sábado, 7 de julio: Gorillaz, CV Jørgensen, Juana Molina, Kelly Lee Owens, Kokoko!, MHD, Mogwai, Myrkur, Omni, Palm, Scour, Sigrid, Slaves, Veto, Vince Staples y Yonaka.
Sin fecha: Alex Vargas, B From E, Baby in Vain, Baime, Bankslave, Bisse, Cabal, Cezinando, Chelsea Wolfe, Emil Kruse, Fool, Goss, Gurli Octavia, Iris Gold, Kakkmaddafakka, Kippenberger, Lød, ±maismenos±, Marshall Cecil, Nathan Fake, Nelson Can, Pale Honey, Peter Sommer, Rome Is Not A Town, Sassy 009, Simon Littauer, Slægt, Smerz y The Minds Of 99.
Cartel hasta el momento del Roskilde 2018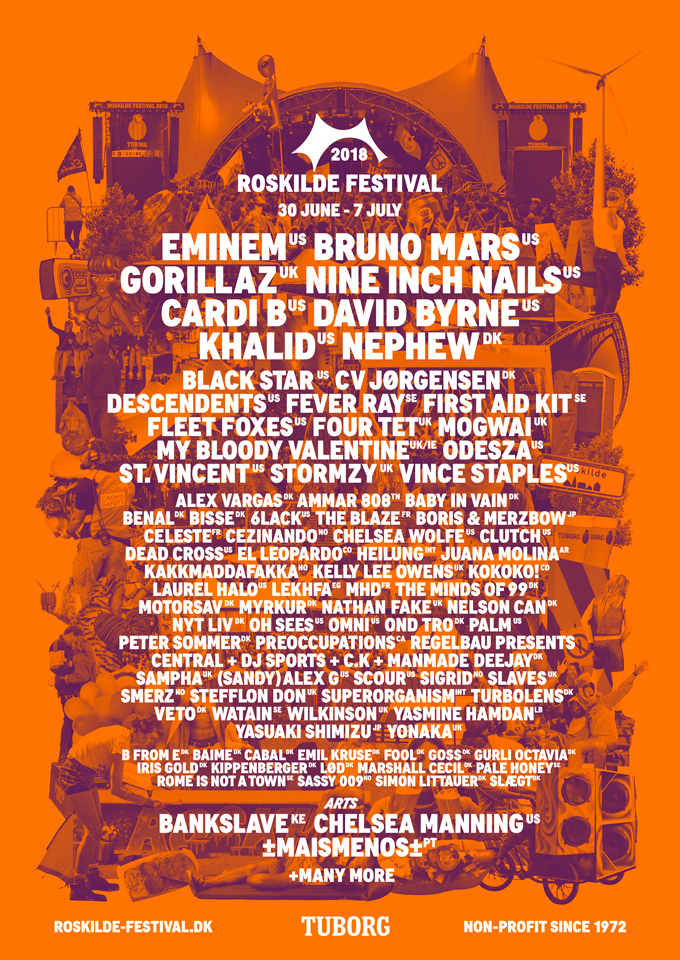 El festival Roskilde tendrá lugar entre los días 30 de junio y 7 de julio de 2018 en Roskilde (Dinamarca). Más información aquí.
Página oficial: roskilde-festival    Facebook    Twitter
¡Recuerda consultar el calendario de confirmaciones de festis para enterarte de todas las novedades!