El Roskilde 2020 cierra su cartel con las incorporaciones de Kendrick Lamar, The Strokes, HAIM y 78 nombres más.
Programación completa del festival danés:
Miércoles, 1 de julio: Taylor Swift, Deftones, Bicep, Cage The Elephant, Dababy, Jada, AV AV AV, boy pablo, Cate le Bon, Chancha Via Circuito, Cimafunk, City and Colour, DJ Graded, Lydmor x Corpus, The Night Flight Orchestra, Nkumba System, Old Man Gloom, Rita Indiana, Soleima y Squid.
Jueves, 2 de julio: Kendrick Lamar, Faith No More, Kacey Musgraves, Alex Cameron, Angel Olsen, Charli XCX, Fatoumata Diawara, Mura Masa, Pusha-T, TLC, Unge Ferrari, Waxahatchee, Whitney, Aïsha Devi, Barker, Bremer/McCoy, Brittany Howard, Danish String Quartet & Dreamers' Circus, Death by Unga Bunga, DJ Graded, Elder, Employed to Serve, girl in red, High on Fire, Holly Herndon, IDK, Jimmy Eat World, Karenn, Kate NV, Les Amazones d'Afrique, Lydmor x Corpus, MC Yallah & Debmaster + Mczo & Duke, Moscow Death Brigade, Nils Økland, Phoebe Bridgers, Rapsody, Saba Alizadeh, Saveus, Sote, Svalbard, Temp-illusion y Tropical Fuck Storm.
Viernes, 3 de julio: Tyler The Ceator, FKA twigs, Thom Yorke Tomorrow's Modern Boxes, Africa Express, Anderson .Paak & The Free Nationals, Big Thief, Doja Cat, Perfume Genius, Rüfüs Du Sol, Sampa the Great, Suspekt, Tinariwen, The Whitest Boy Alive, Ak Dan Gwang Chil, Bersærk, Black Country New Road, Carmelo Torres, CHAI, Clara, Claus Hempler, Conjurer, DJ Python, Guiss Guiss Bou Bess, Gyedu-Blay Ambolley, Heathe, Helms Alee, Hugo Helmig, Hugorm, Lisa Morgenstern & Bulgarian Voices Berlin, Minimal Violence, Moses Sumney, Nyredolk, Ooioo, Orm, Pattesutter, Royce 5'9″, Sassy 009, Scúru Fitchádu, Sicaria Sound, slowthai, Teto Preto y Yola.
Sábado, 4 de julio: The Strokes, HAIM, Thomas Helmig, Dave, Malk de Koijn, Rico Nasty, Ride, The Roots, Tom Zé, Young Thug, Amenra, Anna Meredith, Arlo Parks, Canzoniere Grecanico Salentino, Fat White Family, Hjalmer, Kelly Lee Owens, Kælan Mikla, Land of Kush, Lingua Ignota, Lous and the Yakuza, Nadah el Shazly, The No Ones, Object Blue, Oozing Wound, Rwayes 2020, Sarah Klang, Seni Reak Juarta Putra, Sorry, Suicide Silence, Tarrus Riley ft. Dean Fraser & Black Soil Band, Tvivler, Tyler Childers, Ustad Saami, Weval, Youth Code y Zenobia.
Domingo, 28 de junio – Martes, 30 de junio: Amanda Tenfjord, Anansi, Assegai, Athletic Progression, Bette, Binær, Blood Child, Emmadop, Erika de Casier, Eyes, Faratuben, Fieh, Gabestok, Ganger, Greta, Himmelrum, Isolated Youth, Jabba, JJ Paulo, Josephin Bovién, Joyce, Jung, Kaaliyah, Korter í Flog, Late VErlane, Maidavale, Mekdes, Ninoosh & Loljud, Peachlyfe, Repro, Rigmor, Rune Bagge, Shaam Larein, Sulka, Tessa, Thaiboy Digital, Tuhaf, Visitor Kane, Whistler, Ydegirl y ZK x Omar x Larry 55 x Amina.
Cartel completo del Roskilde 2020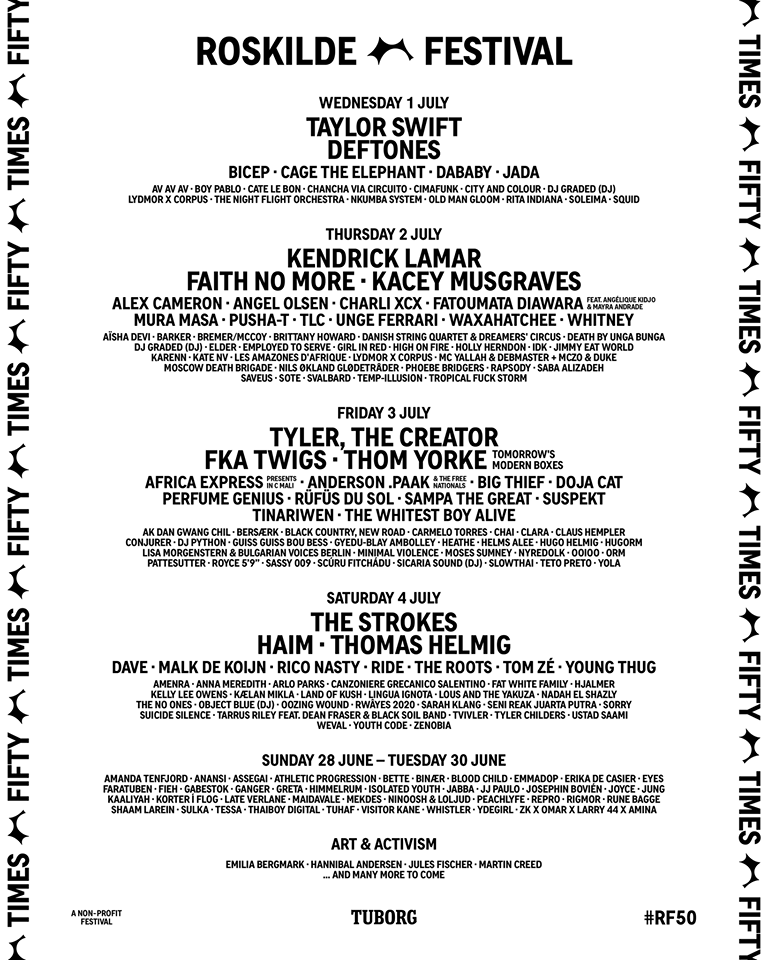 El festival Roskilde tendrá lugar entre los días 28 de junio y 4 de julio de 2020 en Roskilde (Dinamarca). Más información aquí.
Página oficial: roskilde-festival    Facebook    Twitter
¡Recuerda consultar el calendario de confirmaciones de festis para enterarte de todas las novedades!